12 lipca 2021
Category:

Community News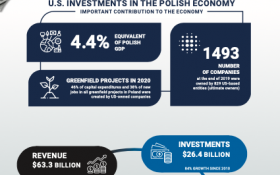 Economic relations Poland-United States are developing better than correctly. American companies in Poland are strengthening their activity and trade is growing at a double-digit rate year by year.
Currently there are about 1500 entities owned by American investors operating in our country. These are mainly manufacturing companies – almost half of the investments come from this sector. Among them the most important is a production of aircraft and related machinery (Pratt&Whitney, Goodrich Aerospace, Avio Polska), a production of packaging (Can-Pack) and a production of other motor vehicle accessories (Lear Corporation, Tenneco, Borgwarner).
U.S. companies hold accumulated in Poland assets worth over PLN 210 billion ($ 5.54 billion) and employ nearly 300 thousand people. The largest employers in the industry include Lear Corporation, Raytheon Technologies, Tenneco, and Whirlpool. As far as non-manufacturing activities are concerned, American companies operate both in logistics and warehouse management and in knowledge-based services. Thus, among the largest employers we have Amazon, IBM, Advent, or Citibank.