7 kwietnia 2022
Categories: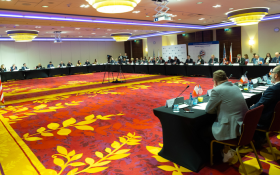 AmCham and UN Global Compact Network Poland organized an Energy Roundtable on April 6, 2022.
At the meeting, the disputants have discussed an action plan for energy transformation in Poland and drafted a path of critical needs in the following months and years. Stopping climate change, reducing Poland's dependency on Russian fossil fuels and keeping Poland attractive place to invest are common aims clearly expressed by our distinguished guests: Honorable Mark Brzezinski, U.S. Ambassador to Poland, Ms. Katarzyna Zajdel-Kurowska, Executive Director at the World Bank Group, and government representatives: Mr. Maciej Małecki, Secretary of State at the Ministry of State Assets; Mr. Mariusz J. Golecki, Undersecretary of State at the Ministry of Economic Development and Technology; Mr. Piotr Naimski, Government Plenipotentiary for Strategic Energy Infrastructure and representatives of AmCham and UNGC member companies.
Our guests have agreed that a new security model, currently being created as a response to the Russian invasion on Ukraine, must involve energy issues now and in the future. Currently, energy security and national security are interdependent. Ambassador Brzezinski stressed that energy security and a clean energy transformation are essential for Poland and the United States. Moreover, the U.S. supports Poland in immediate energy needs during this transition period by providing access to LNG and crude oil and building infrastructure for fossil fuels substitutes. Ambassador Brzezinski highlighted the importance of nuclear technology and heralded close cooperation of American and Polish firms in introducing nuclear power into the energy mix in Poland. Ambassador Brzezinski sees American and Polish companies jointly developing and selling renewable technology and more energy-efficient products in the long-term perspective. Finally, Ambassador Brzezinski referred to the Three Seas Initiative as a platform for creating actions to rebuild and realign infrastructure to assist Ukraine.
Public administration representatives discussed their focus on concrete solutions leading to a quick and efficient change in the Polish energy mix. Though not new, this is an extraordinary situation because the tactical introduction of the energy transition into European economies has long required understanding and acceptance. Moreover, climate policy requires common sense. Indeed, it requires vision and extraordinary responses based on public-private partnerships.
Poland is ready to suspend oil purchases from Russia, although it should be emphasized that this will be connected with increased energy costs, which the whole economy will bear – both by companies and private consumers.
In the case of gas, the withdrawal from Russian supplies may take place within 2-3 years. This will require the construction of transmission systems and terminals in Poland and, for example, Germany. The complexity of gas distribution system and interdependency of the European supply system, exclude the possibility of stand alone, national strategies such as halting supplies to one of the EU countries
A critical issue emphasized in the discussion was the question of coal and its elimination from the energy mix, which goes beyond environmental issues. In this context, one can see how important renewable sources are becoming.
According to the declaration of the government representatives, this summer, we will be able to see the initial results of the arrangements with the USA started in 2021 in the scope of cooperation towards the reconstruction of the Polish energy system.
It was also emphasized that technologies that must be introduced to change Polish energy mix i.e., nuclear energy, are strongly dependent on our international partners, cooperation, and investments. Focus on collaboration in the area of digital transformation (smart grids, software for energy management/storage), and capital is the essential factor today to stimulate this area of energy transformation.
The possibilities of involvement and capital support were indicated in the ongoing discussion by Ms. Zajdel-Kurowska, a representative of the World Bank. The institution she represents is committed to supporting Poland's economic growth and energy transition as part of its key strategic goals. According to Ms. Zajdel-Kurowska, the area of uncertainty will change a perspective on future costs and expenses in the environment and climate-friendly energy generation.
This theme continued with bank representatives speaking as the first group of companies present at the AmCham Energy Round Table. Mr. Kwieciński from Pekao S.A., Mr. Hann from BOŚ Bank, and Mr. Kosno from Citi declared that the banking sector is well suited to finance projects in energy transformation. It was called "green transition" by Mr. Hann, who highlighted the importance of renewable energy. Additionally, the Citi representative offered the bank's consultation, advisory, and expertise in the area of the energy sector gained in foreign markets. The financial sector was also represented by an official from the European Investment Bank (EIB), who highlighted that the Bank mobilized about 6.5 billion euros to Poland, and over 40% of this capital was dedicated to climate actions, incl. renewable energy projects. The EIB's key priority is to accelerate green transformation in the energy sector and be involved in more risky projects in the private sector that invests jointly with the EIB.
Furthermore, energy sector firms, such as Polenergia, Tauron, Equinor, and Westinghouse, present their perspective on the market, showing us a vital challenge in investing more heavily in projects considered earlier. Westinghouse is one of the key players in nuclear energy technology in the U.S. Its presence in Poland confirms the Poland-U.S. partnership in the energy transformation process and implementation of novelties in the energy market.
Energy sector firms have stressed that since the needs are urgent, regulatory standards in Poland should rely on standards elsewhere because essential decisions, including business decisions, are inevitable. This way, we can reduce risk and investment uncertainty, allowing companies and investors to actively participate in the energy transition processes.
Firms of energy-intensive processes, such as CMC and 3M, ones supporting industrial processes, such as Emerson, and providers of alternative energy technologies such as Drax and Enviva, add to that discussion their openness to supporting energy transformation process by sharing their solutions, knowledge and experience gained locally and internationally. At the same fuel retailers and importers (Shell, BP, Unimot) shared their readiness to help transforming the market and giving all their effort to keep supplies of the traditional fuels on a sufficient level, until they are needed. The latter one is important in the face of possible sanctions on Russian oil and coal.
They also agreed with the previous speakers who said that renewable sources are an opportunity for a more efficient energy system in Poland, and creating a strategy for their management is a key challenge in creating a new energy order in Poland.
Complex support for the improvement of the efficiency in power generation, apparatus reconstruction, and grids was also declared by energy equipment specialists such as GE Power and PKP Energetyka. Such assistance in efficiency improvement is seen and offered by IBM and Accenture ready to ensure cyber security, control stability, and support a new energy system in Poland.
View meeting gallery HERE