11 października 2022
Category:

Community News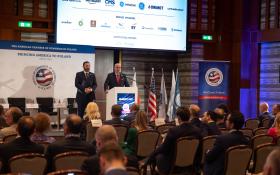 Nearly 200 participants attended the Energy Day Forum, a conference addressing the main challenges for the energy sector, coming as a result of the current energy crisis in Europe. It was organized by AmCham Poland and the United Nations Global Compact, at the Westin Warsaw hotel, on October 6.
The attendees represented the energy, financial, and banking sectors, with support from legal and regulatory services, and government representatives.
The conference was opened by AmCham Chairman Tony Housh, who said that even though Russia has weaponized energy, the energy sector in Poland is still responsible for creating a sustainable, fair and opportunity-driven economic future for the country.
The AmCham chairman said that the forum offered an opportunity for stakeholders in the energy sector to discuss issues they face and solutions they see and noted that "It is not just about megawatts but the lifeblood of the democratic market society."
Housh said that private energy companies have a lot of answers to the problems the economy is facing today. "We have the technology, capabilities and know-how. It is important that we find the way, as the private sector and as government policy stakeholders, to work together," he said.
In his opening remarks, Kamil Wyszkowski, Executive Director of the UN Global Compact Network Poland, said that Poland is a key partner for the US in energy security. The UN Global Compact sees a need to strengthen energy security in the current geopolitical situation and without "this very special relationship" between the US and Poland, the opportunity to do it right may be lost.
Wyszkowski also said that the UN Global Compact is involved in helping Ukraine rebuild its energy sector, and here there is room for US and Polish energy companies.
US Ambassador to Poland, Mark Brzezinski, said in his remarks at the opening of the forum that while there are many challenges in the economy today in Poland and Europe, "amidst those challenges there are a lot of opportunities for business".
He said that in recent years the American business community in Poland has demonstrated great leadership in jumpstarting clean energy transformation in the country.
Because Russia has put pressure on energy markets, raised prices for consumers and threatened global energy security, it is imperative to diversify energy sources. "Poland and the US have already done this," Ambassador Brzezinski said, adding that now some other EU countries are following the Poland-US example. "Poland has been working alongside many American companies to accelerate energy diversification. Because of that, when Russia suddenly cut gas supplies to Europe to punish Europeans for supporting Ukraine, Poland was ready. It was thanks to a decision Poland took a decade ago to end its dependence on Russian gas".
The ambassador noted that the LNG terminal in Świnoujście, North-West Poland, was opened seven years ago and today it operates at 100 percent capacity. "Many ships carrying LNG to Świnoujście are coming from the US," the ambassador said.
Ambassador Brzezinski spoke highly of the recently-opened Baltic Pipeline, which delivers gas from Norway to Poland. He said that it is Poland's great accomplishment as it helps the country move away from its dependence on Russian gas.
The US Ambassador also said that to further extend the energy portfolio developing a nuclear power program in Poland using American technology is an ideal solution for the Polish economy. "It is fully in line with Poland's published nuclear strategy," Ambassador Brzezinski said.
He noted that both Westinghouse and Bechtel have already signed memoranda of understanding with dozens of Polish companies allowing for cooperation on six nuclear reactors in the country.
When those reactors are operational in Poland, experts estimate they will translate into 54 million tons of avoided greenhouse emissions every year. This amount is roughly the size of the annual emissions of a country like Bulgaria.
Developing a civil nuclear industry with such trusted partners will result in another European source of energy that emits zero carbon and is free from Russian influence, Ambassador Brzezinski noted.
He said that a nuclear program in Poland "is an opportunity to advance economic, security and climate goals on a massive scale together. The energy needs in Poland are too dire and too imminent, and nuclear is the only technology that can address this for generations to come".
"The nuclear deal will also forge a center of future partnership in the energy sector between Poland and the US which will create thousands of clean energy jobs in both our countries for over a decade," the US ambassador said, adding that the deal will help position Poland as a regional leader in the civilian nuclear energy sector.
Bartłomiej Pawlak, Vice-President, Polish Development Fund (PFR) said that the Polish energy sector transformation is the biggest challenge for the country's economy since the beginning of the economic transformation in the country which started 30 years ago. Foreign investors view the Polish economic transformation as a huge success and they hope that the transformation of the energy sector will be equally successful.
Pawlak gave an overview of how the Polish Development Fund supports the transformation of the Polish energy sector, and explained the philosophy of its investing vehicle, PFR Ventures, which looks for venture fund partners to support their investments in technology startups in the energy sector.
Pawlak noted that PFR Ventures has a program dedicated to venture funds looking for investment opportunities in ecology, renewable energy sources and clean technology. "So far there are three foreign funds in the program and PFR is about to sign a contract with a Polish fund as well," Pawlak said.
He noted that one of the foreign partners in the program is private equity company General Atlantic, a US-based company.
Another speaker, Grzegorz Słomkowski, a Board Member of the Polish Investment and Trade Agency (PAIH) said that the Polish government plans to introduce several mechanisms that will curb the growth of energy prices. Among them will be the maximum price that energy consumers may be charged by energy companies; another, a "windfall" tax on energy producers. The government also plans to lower fees that energy distributors pay when connecting to green energy sources via the so-called "direct line".
Representing the banking sector, Barbara Słomkowska, Director, Global Network Banking, Citi Handlowy, said that commercial banks are ready to support the transformation of the Polish energy sector.
However, the important question is how the war in Ukraine will impact the green transformation in the EU.
"We believe that the EU plan to use LPG as a transition fuel may be a short-term solution, but long-term we expect that the use of renewable sources will accelerate," she said.
Słomkowska added that despite the war in Ukraine, climate change will remain the central issue and the banking sector will support companies that invest in clean energy, infrastructure for clean energy, and provide other support to the transition to more sustainable, decarbonized energy solutions. For Citi in Poland, it means supporting local businesses which invest in sustainable development solutions and social responsibility solutions.
The last speaker of the opening session was Jerzy Kozicz, President of CMC Poland, a steel producer which covers 20 percent of the demand for commercial metal products in the Polish market.
To put in perspective the energy needs of steel producers such as CMC Poland, Kozicz said that a modern steel-mill furnace, with the best energy efficiency achievable today, uses as much electricity as a city with a population of over 700,000.
Kozicz explained that CMC Poland views energy from three different aspects: energy security, energy competitiveness, and energy sustainability.
For energy security, the company has long-term contracts with PGE (electric power) and PGNiG (gas), and other long-term contracts—Power Purchasing Agreements (PPAs)—with several green energy companies to ensure energy provision for prospective new projects.
According to Kozicz, the Polish energy sector depends so highly on fossil fuels that it does not offer enough options for big energy consumers who seek green energy sources to be able to manufacture low-carbon footprint products.
To meet this need, a change in the structure of the Polish energy sector is a must, because without it, within a few years, big energy consumers in Poland will turn to energy produced in neighboring countries offering energy with a balanced carbon footprint.
Following the forum's opening, the day's first discussion panel was entitled "Investing in Green Energy and ESG—how companies and their customers transform; how it impacts their shareholder value, and what are the best ways of financing the transition." Michal Koczalski, Managing Partner, CEC Group, moderated the panel. The speakers were Magdalena Brzezińska, Corporate Affairs Director at Grupa Żywiec; Magdalena Hilgner, Attorney-at-Law, Energy and Sustainability, EY Polska; Rene Koinzack, General Manager, Deutsche Lufthansa S.A. in Poland; Stanisław Motylski, General Director, Flex; Katarzyna Szwarc, High Representative of the Minister of Finance for Capital Market Development Strategy; Mariusz Wawer, Government Relations and Sustainability/ESG Leader at 3M.
All speakers agreed that companies today are under pressure to invest in green energy and apply solutions that make them compliant with ESG standards as defined by the European Union. There are three directions from which the pressures come. The current energy crisis in the EU makes many companies eye cheap energy from renewable sources, which do not depend on the imports of fossil fuels and thus are viewed as free of threats of energy outages.
However, the real scope of demand in this area is unknown, said Magdalena Hilgner, as many big companies have long-term contracts with energy providers and currently receive energy based on the contracts they signed before the crisis.
Another pressure area for companies to apply ESG solutions comes from stakeholders: investors, business partners, and consumers. Mariusz Wawer said that 3M, which manufactures some 60,000 different products for different industries, is approached nearly every day by its clients, who ask what the company does to lower the carbon footprint of its products. "They need to know because their consumers require information on the environmental impacts of the products they buy," Wawer said.
The third pressure area comes from EU regulations. Already, 11,000 largest companies in the EU are obliged to include their ESG practices in annual reports. Come December this year, mid-level companies will also fall under this obligation, which in Poland will cover approximately 3,000 companies. Two years from now, smaller companies across the EU—including approximately 50,000 companies in Poland—will also have to incorporate ESG in their annual reports. According to Hilgner, this will be a major challenge for companies. To do the job properly requires the engagement of big teams across the board, including accounting, compliance and other departments. Of equal importance is the fact that companies have to do their job well in advance "because they need to know the data well in advance to draw proper conclusions on how the markets and stakeholders will react to their ESG compliance reports," said Hilgner.
Along with discussing formal requirements for ESG reporting, the panelists shared their thoughts on the practical aspects of implementing "green solutions" by their corporations, such as reducing energy consumption, environmental impacts, and the carbon footprint of their products and services.
Rene Koinzack said that for Lufthansa the key aspect is to reduce carbon emissions and make extensive use of clean energy. The company has invested in low-emission aircraft and technologies that increase the sustainability of its group operations, such as photovoltaic energy sources. Lufthansa also invests in cooperation with technology partners on fuel technology and solar energy, and works with its business partners to help them offset traditional energy with renewable sources. "It is a big investment and it is important for our customers," Koinzack said.
Mariusz Wawer said that 3M has a strategic approach to ESG globally. Since 2018, each new product that the company develops is examined vis-a-vis its ecological impacts. In addition, the company has realigned its supply chains to reduce its carbon footprint, and decided to produce some of the components locally instead of having them shipped from locations on different continents. "Those are small, well-pinpointed investments and not big spectacular ones, but investments nevertheless," Wawer said.
Magdalena Brzezińska said that for Grupa Żywiec, the green transformation is a strategic one and one that requires focus from the people inside the company as well as its subcontractors, suppliers and business partners. Thanks to huge investments in solutions helping to conserve energy, including heat, across the production process, the company has managed to reduce carbon-dioxide emissions by 70 percent within the last ten years and plans to reach net zero emissions by 2030.
The company is looking forward to legislation introducing a deposit system for beverage packaging, as the hardest challenge, it seems, is to change consumer attitudes. "Out of convenience, consumers in Poland have a strong preference for disposable bottles," Brzezińska said. Yet, the environmental impact of a disposable bottle is five times that of a reusable bottle. This is why Grupa Żywiec has started a program called "Give a new lease of life to the bottle" to reward consumers for their efforts to help save the environment.
Stanisław Motylski said that Flex, a global producer of electronic components, has ESG as part of its global growth strategy. In 2021, the company decided last year to build a 12.5-megawatt photovoltaic power facility in its industrial park in Tczew, northern Poland. The company applied for clearances and permissions in February this year, but by the time of the Energy Day Forum it had noticed "no progress" in obtaining them.
Motylski said that the world's average wait time for obtaining all the necessary permits for a photovoltaic facility is between 2-4 months, "and well below that in Europe," he said. Explaining why the process has taken so long, he said that there is no clear path for issuing such permits in Poland. "There are regulations which are unclear and allow for different interpretations on local and regional levels," Motylski said.
Katarzyna Szwarc from the Ministry of Finance said, that the Polish economy currently faces two historic challenges: the green transformation and the digital transformation. In both cases, at stake is the competitive edge of the Polish economy on the European and global markets.
Szwarc noted that while the green transformation is a major challenge for the economy, it also offers new opportunities for the Polish financial market. The transformation is estimated to cost EUR 250 billion by 2050, of which approximately EUR 200 billion Poland will obtain from the EU. "The EUR 50 billion gap is an opportunity for private investors in green energy," Szwarc said, "which is why the Ministry of Finance aims to create the most optimal instruments for them."
The ministry plans to achieve it by bringing together legislators, government ministers, social partners, and private sector representatives so they could exchange opinions and share best practices. The ministry set up an online communication tool, called "The Sustainable Financing Platform", to be operational in November, where company representatives can register to submit their ideas and opinions and take part in the discussion as members of working teams.
One of the priorities for the ministry is to design a road map for introducing green bonds in Poland. "Green bonds allow for getting capital to finance green investments at a relatively lower price than ordinary debt mechanisms," Szwarc said. "For investors, they offer additional value, as they can be included in ESG reporting. Presently, however, investors who want to buy green bonds need to purchase them in Amsterdam, Stockholm, or London. We want green bonds to be available in Poland too, and not only for investors in Poland but in the entire region of Central and Eastern Europe," Szwarc said.
The second discussion panel was entitled "Staying competitive in the era of energy crisis—tools and mechanisms to sustain growth and smooth energy transition of large companies in Poland". The discussion was moderated by Remigiusz Nowakowski from DISE Energy, an energy market think-tank based in Wrocław, Lower Silesia.
According to Roman Gawrysiak, Government Affairs Director at Unimot, with the loss of imports from Russia and Byelorussia, the company had to resort to alternative sources and realign its logistic chains to the new market reality. Recently, Unimot signed several contracts to double its railway transportation capacity to ensure timely deliveries of fuels contracted in new markets. "Bottlenecks in logistic chains pose major threats to fuel deliveries to Poland," Gawrysiak said.
Unimot also offers photovoltaic solutions produced in Poland in cooperation with the US company First Solar. But fuels remain the main product category offered by Unimot. The company imports fuel products from India and Saudi Arabia and is looking for opportunities in other distant markets. In the long run, the change in import markets will cause a rise in prices for the Polish client.
Andrzej Kaźmierski, Deputy Director, Low Emission Economy Department of the Ministry of Development and Technology, said that domestic and EU regulations limit the ways in which the government may render financial aid for companies that face problems caused by the rise of energy prices. The government's strategy is to protect such companies whose demise would cause major impacts on their markets or local labor markets. In delivering aid, the government acts on an individual basis and is required to obtain consent from the prime minister and adequate regulatory authorities in the EU.
According to Jerzy Kozicz, for major energy consumers, the lack of government support in cushioning large energy bills in Poland raises concerns regarding the competitiveness of the Polish economy.
Yet, more questions arise for producers whose clients require carbon-free products. They do not have the choice of the energy they need in Poland as over 70 percent of all power produced in Poland is fossil-fuel based.
"Nuclear is supposed to be in Poland in 10 years from now, offshore in 5 years. But time is running out and we need a strong renewable energy sector in 2-3 years," Kozicz said.
In other words, the country desperately needs to speed up the development of the renewable energy sector.
To make it happen the government needs to act fast in a few key areas. First, it has to make sure that the new regulations governing zoning plans become law as soon as possible. Second, it needs to update the regulations under which renewable energy producers may get access to the energy grid—the so-called "direct line" regulations.
Kozicz said that the update should reflect the propositions from the Ministry of Development.
Third, the ban on building windmills in the vicinity of residential buildings within a distance closer than 10 times the height of the proposed windmill must be revoked. Last but not least, the national power grid must be technically updated to allow for more connections from renewable energy producers.
For Mariusz Mielczarek, CEE Public Policy Director at Amazon, a company that has set itself a goal of being a zero net producer of carbon dioxide by 2040, Poland lags behind other CEE countries in introducing the PPA mechanism—a reciprocal financial relationship between an electricity generator (the electricity can be generated by renewable sources, mainly solar and wind), the seller, who develops and owns the project, and a dedicated purchaser of the electricity, the buyer.
"We see that in other countries in the region it is easier to invest in renewable energy than in Poland," Mielczarek said. "It is important for companies such as Amazon, who want to be climate neutral and achieve it locally."
Piotr Ciołkowski, Partner at CMS law firm, noted that there are some new fees that renewable energy producers will have to pay before they are connected to the national power grid, which, in his view, may negatively impact the development of the renewable energy sector.
Another speaker, Marta Pawlak, Head of Legal and Public Policy at AmCham Poland, said that the new "windfall tax" proposed by the government will diminish the country's competitive edge for big foreign investors active in Poland.
With still fluid regulatory frameworks and limited scope of state aid, big energy consumers may resort to technology to use energy in more efficient ways, argued Jacek Borek, Managing Director, Accenture Technology in Poland. He said that the current energy crisis made energy a strategic issue for most companies, and they discover that digitization is a sure way to tackle the problem. "Without data, we do not know what to do," Borek said. "Meanwhile, with digital processes, companies may collect information on their production processes in real-time and apply it to make a more efficient use of energy."
The third discussion panel at the forum was entitled "Nuclear Energy—How US nuclear technologies can guarantee energy security in Poland". Moderated by Robert Tomaszewski from Polityka Insight, a market analyst, the discussion oscillated around the impacts a civil nuclear program in Poland may have on the energy market in the country, and how it can reinforce the Polish-American strategic cooperation and nuclear technologies available to investors today.
Poland will not be able to achieve carbon-free power generation without nuclear energy, said Tomasz Nowacki, Nuclear Energy Department Director at the Ministry of Climate and Environment.
He added that in picking up the best offer for building nuclear reactors in Poland, the government should choose such technology that ensures the production of low-cost energy on a large scale in Poland.
According to Rob Rudich, Energy Attaché and Energy Office Department Director at the US Embassy in Poland, strategic cooperation perspectives should also be important for the Polish government. He said that Poland and the US have a long history of working together and forging robust relationships, especially in the defense and people-to-people sectors. "We need to enhance our economic cooperation, and we see nuclear energy as an opportunity to help Poland develop skills and capabilities for a civil nuclear program that may bring Poland to a position of a regional leader in nuclear energy," Rudich said.
Rudich noted that the US Embassy in Poland proposed setting up a nuclear energy training center in Poland with a European mission. "That would help Poland develop necessary skills for the nuclear sectors that will go on for generations," he said.
Rudich added that Poland should select one technology for the two nuclear power plants it plans to build. "It would be incredibly challenging to try to deploy two different reactor technologies at the same time. There is the economy of scale that would be lost building two separate technologies, and the regulatory challenges would be made unnecessarily complicated," he said.
Mirosław Kowalik, President of Westinghouse Electric Poland, said that in its bid for the nuclear business in Poland, the company has presented a solid background of how to make nuclear energy work in Poland.
He noted that Westinghouse has talked with many Polish companies in the energy sector on how to create "solid local content" for Polish nuclear energy, including suppliers and service providers.
While conventional—or the so-called big—nuclear reactors require strategic government decisions, the technology of small modular reactors is a different story.
"The main difference is in technology and it starts with safety," said Vladimir Novak, Corporate Commercial Officer at Ultra Safe Nuclear. "The difference is in the design of the fuel. Small reactors are cooled with gas and have the fuel encapsulated in a ceramic structure that is as hard as diamond. The fuel has a margin of safety at over 1000 degrees of Celsius, which is some ten times higher than typical water-cooled reactors would have."
Novak said that in any operating circumstances the fuel cannot reach the melting point as it is technically impossible for a small reactor to experience a meltdown even when its cooling system is unable to function.
"In a small reactor which experiences a total loss of power the fuel will just get hotter and stay like that until proper operations resume," Novak explained, adding that small reactors do not require those safety systems that are applied to traditional reactors.
To emphasize the safety of small reactors, Ultra Safe Nuclear placed one of its commercial small reactor
projects on the University of Illinois campus. "You do not need to have the emergency planning zones of ten kilometers, which is typical with traditional reactors," Novak said.
According to Jacek Drózd, Vice President, Orlen Synthos Green Energy, small reactors offer "a renaissance" in the energy sector in Poland, as they can be set up almost anywhere. They may give a new lease of life to power stations that otherwise would be put offline because they use coal. Small nuclear reactors may also be used by production companies that have a huge energy demand.
Nuclear energy is considered by the EU to be a green asset and therefore it is an interesting investment area for commercial banks in Poland that eye opportunities in the energy sector transformation, noted Sylwia Kraska, Senior Banker, Global Network, Citi Handlowy.
Yet, traditional nuclear projects are very cost-intensive, require long construction periods and payback time, and pose a high risk for investors. With this in mind, the Polish nuclear energy program will be a very challenging project for potential private investors including suppliers, contractors and vendors, but also for the regulators that will need to be engaged in it. "We see our role as working with all the stakeholders and helping build that new infrastructure," Kraska said.
She added that a project of such magnitude and technical and organizational complexity will require high-quality input from market regulators, legislators and tax authorities. "A stable regulatory framework and tax environment designed for Poland's energy transformation is critical for boosting investors' confidence," Sylwia Kraska said.
Talking about the best ways of financing a nuclear power plant construction in Poland, Łukasz Szatkowski, Partner at CMS, singled out the SaHo model, which was developed at the Warsaw School of Economics, as theoretically being the best solution to solve some problems characteristic to investing in nuclear energy. The model is now being discussed by the Polish government. In it, the initial phase of investment is shouldered by the state, but once the project is established as a special purpose vehicle, private investors can acquire shares in it as well.
During the Energy Day forum, Tony Housh and Jerzy Kozicz presided over a closed meeting with the representatives of companies who are members of the AmCham Advisory Council and Andrzej Kaźmierski, Deputy Director, Low Emission Economy Department at the Ministry of Development and Technology. AmCham members voiced their opinions on government contingency plans for the energy sector designed to be used in case it faces low gas provisions, and discussed government propositions to curb energy prices and other market regulations that have a significant impact on energy transformation.
In his forum closing remarks, Tony Housh thanked the sponsors and all the participants for their time and attention and said that energy is such an important topic that drives "almost everything about the economy" which is why "we will probably see a repeat of this forum a couple of times to drive these messages home and continue the discussions".
View conference photo gallery HERE