14 września 2021
Category:

Community News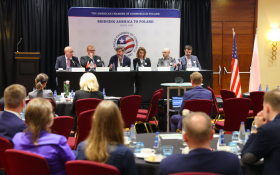 On Wednesday, September 15, AmCham Poland had its first hybrid Monthly Meeting since October 2020. During this Monthly Meeting, post-Economic Forum in Karpacz last week, our Chairman Tony Housh asked questions about various topics to our speakers Paweł Gruza, Vice President at KGHM Polska Miedź; Krzysztof Krawczyk, Partner, Head of Poland at CVC; Mariusz Mielczarek, Regional Director CEE, Public Policy at Amazon; Eliza Przeździecka, Chief Economist at the American Chamber of Commerce in Poland; and Konrad Ślusarczyk, Head of Government Engagement CEE at VISA.
The first topic covered by speakers was a summary of the Economic Forum in Karpacz and the mood about Poland's current state of the economy. After the overview, our Chief Economist discussed the reality of the rising dynamic inflation in the country. She mentioned that businesses did not have the time to get used to its rising pace as in the 90s. Currently, there is a growing debt and an oversupply of money, which brings the question of where this money comes from, decreasing the value of the country's currency, creating a problem in the long run for companies and consumers due to the reduction of welfare.
The next subject covered was sustainability, where business and policymakers discuss this topic, whereas the Polish uncertainty about its energy transformation has no clear view of where we are going. Afterward, we spoke about labor and the need for rapid reform in the education system because access to labor depends on the capacity of Polish universities, technical schools, and vocational training systems in creating talents. The Polish education system should prepared for further needs called by business.
During this meeting, the energy mix was also a hot topic where challenges and opportunities were discussed about the energy issues rising importance in the economy.
Money and its evolution were also an exciting topic discussed today and the trends of consumer behaviors and entrepreneurs on how they adapt to their clients. Two changes have been observed. The first one is the shift to contactless payments, where at the start it was a health factor to reduce hand exchange of money while the second factor observed is e-commerce, where more transactions are currently done online, and this trend will stay with us for good as consumers got used to shopping on online platforms. But small and micro enterprises are not ready for online transactions, and this is a challenge for such businesses. However, the pandemic has put more pressure on them for their existence in the new reality and evolving consumer trend.
The meeting concluded with a final round of the discussed topics of future trends in economic development and realities in the market. Our country still retains important features of attractiveness for investment capital. However, it is important to remember that all companies face a new post-pandemic reality that will be transforming daily business by climate and ESG issues, new model of work on the line of employer-employee, and supply chains reconfiguration.