6 lipca 2023
Category:

Community News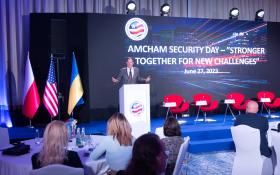 On June 27, at InterContinental Warsaw, the chamber held a conference on cybersecurity entitled AmCham Poland Security Day—Stronger Together for New Challenges. In the opening part, the keynote speaker, US Ambassador to Poland Mark Brzezinski said that the war in Ukraine has posed new challenges for cybersecurity. It now requires a holistic approach across physical and digital spaces and should make sure that citizens and critical infrastructure, as well as supply chains and people's ability to communicate and do business, are protected. The ambassador said that with the war in Ukraine NATO is indispensable in defending transatlantic security. While such a collective defense system works, now is the time that Poland can use to invest in cybersecurity. Doing so is of strategic importance as data, the ambassador said, in many ways, is the oil of the 21st century.
TECHNOLOGICAL CHALLENGES
The first discussion panel was devoted to discussing how digitization, cloud technology and artificial intelligence (AI) can boost Poland's security. Moderated by Jolanta Jaworska, Public Policy Director for CEE at IBM (and AmCham Board Member), the panel comprised Andreas Maierhofer, Chairman of the Board, T-Mobile Poland; Gen. Karol Molenda, Commander of Poland's Cyber Defense Force, a part of the Polish Army; Marcin Krasuski, Government Affairs and Public Policy Head for CEE at Google; Krzysztof Krawczyk, Partner, CVC Capital Partners; and Mateusz Oleksy, Head of Sales, Visa Poland.
Gen. Molenda noted that the Polish public sector is among the top most digitized across the EU and among the best protected against cyber threats. The fact was evidenced by the Cyber Defense Index 2022-23, a ranking compiled by the Massachusetts Institute of Technology, which assesses the level of development in cyber defense. Poland was singled out for the actions it had taken after the start of the war in Ukraine. Gen. Molenda said that in recent years, all EU countries have been expanding their cyber security capabilities. The Cyber Security Act in Poland defined the government's responsibilities in cyberspace and created a legal framework for new government agencies to deal with cyber threats, including the Cyber Defense Force—a part of the Polish Army.
Talking about artificial intelligence (AI) in cyberspace, Gen. Molenda said that it should not be allowed to make far-fetching decisions independently of human oversight. According to Andreas Maierhofer, AI is just the next step in digitization which creates new business opportunities. The technology should not be banned but its users need international regulations for the application of AI.
Google's Krasucki said that AI will change the cyber security landscape. While the technology needs to be regulated the question remains how to do it right. For Krzysztof Krawczyk AI has huge potential in data analysis and is vital for business. Working with Microsoft, a Polish company in the CVC's investment portfolio—the chain of nearly 10,000 convenience stores called Żabka—has become a role model for other CVC-held companies in how to successfully apply AI tools.
Visa's Oleksy said that the company uses AI and advanced data analytics to secure its clients against potentially fraudulent transactions. AI is crucial in providing such services in real time. All speakers agreed that small and medium-sized businesses lack digital advancement vis-a-vis other EU markets, which creates both additional security threats but also business opportunities for companies that deliver security solutions.
ENERGY TRANSFORMATION
The participants of the second panel, entitled Energy Security Through Energy Transformation—on the Way to Energy Sovereignty and Safety for the Next Decades, focused on the role of US companies in accelerating the energy mix transformation in Poland. They were Jacek Borek, Managing Director of Accenture Technology at Accenture Poland; Ryan Bowles, Deputy Economic Counselor at the US Embassy in Poland; Mirosław Kowalik, CEO of Westinghouse Poland; Michał Piekarski, Partner at Baker McKenzie; Dariusz Serówka, Expert at the Office of the Government Plenipotentiary for Strategic Energy Infrastructure; and Maciej Wagner, CEO, SkyBorn Renewables, an independent energy producer specializing in offshore wind generation. The discussion was moderated by Robert Tomaszewski, Head of Energy Sector Desk at Polityka Insight, the market intelligence unit of the Polityka weekly.
All the speakers agreed that energy transformation in Poland offers numerous business opportunities for domestic and international companies.
Dariusz Serówka said that the nuclear power plant to be delivered by the consortium of Westinghouse, Bechtel and Polish Nuclear Energy (PEJ) will set a long-term stage in the Poland-US economic relations.
He said that the plenipotentiary, Anna Łukaszewska-Trzeciakowska, who had been recently appointed to that post, will focus on the deal so it is "done right". Nuclear energy is a priority for the Polish government, and he hoped that the contract will have been signed in the third quarter of 2023.
He noted that Poland will have to discuss several aspects of the project with the European Commission to get its acceptance for the project as once delivered to the market, the plant will become a part of the union's energy market and subject to the EU market reforms and regulations.
Jacek Borek said that doing the project right from the very beginning is essential as it will pay back in later stages including the construction of the plant and its maintenance. There are best practice examples from other countries which need to be brought to the project in Poland so there are no "reinventing the wheel" attitudes among the stakeholders.
Ryan Bowles noted that on the government-to-government level, Poland and the US have had very good cooperation on the nuclear power plant project, with the talks progressing relatively fast and developing mutual trust and understanding.
Mirosław Kowalik said that the Westinghouse-Bechtel-PEJ consortium is a joint project which fulfills Poland's aspirations to build the country's first nuclear power plant and start the Polish civil nuclear sector. Westinghouse Poland is only a part of the project which involves many stakeholders. All the partners focus on doing what it takes for the project to materialize.
Michał Piekarski said that apart from nuclear, the transition of the Polish energy sector involves other technologies, which have been sourced from the US and other regions, and so far have successfully changed the Polish energy system. But nuclear energy is a must for Poland as without it the country will not succeed in making the transition economically and strategically viable.
Maciej Wagner noted that while building the first nuclear power plant in Poland will offer opportunities for domestic and international businesses that may bid for business in different project areas and phases, developing the offshore wind energy sector in Poland will also involve international partners. From the business perspective, offshore energy generation is the second most complex and challenging sector of the economy, only after nuclear, with timeframes for developing sites ranging from 10 to 15 years and processes involving specialized know-how and business partnerships. This is why Polish companies that had been granted licenses for building wind farms along the Polish seashore will have to look for such international partners with the right technology and experience that they have acquired in developing offshore wind farms in other parts of the world.
SECURITY IN BUSINESS
The final panel of the conference was entitled Secure Poland and Secure Business. Its moderator was Marek Matraszek, Chairman of CEC Group. The panelists were Marcin Fabianowicz, Director, Center for Strategic Investments at Polish Investment and Trade Agency PAIH; Marcin Moczyróg, General Manager for CEE at Uber; Dominika Stępińska-Duch, Group VP, Head of Legal, Member of the Management Board TVN Warner Bros. Discovery; Cezary Sowiński, Customer Trust Manager at Amazon; and Prof. Andrzej Zybertowicz, Security Advisor to the President of Poland.
Opening the discussion, Marek Matraszek said that there are different layers of security for business from national security to the personal security of people, to legal security and confidence, to the security of consumers when they engage with business, to energy security. They are all interlinked and all parts of a broader picture.
Marcin Fabianowicz said that Poland had made necessary investments in energy security—including the construction of an LNG terminal—if Russia turned out not to be a reliable business partner. PAIH also took steps to help big foreign investors in Poland understand why the war in Ukraine and the refugee crisis it caused were not a threat to Poland's social and economic stability.
Talking about cybersecurity, Prof. Zybertowicz said that it is about a balance between cyber threats and cyber defenses. Often, firms do not offer extremely tight security systems for fear that they may turn out to be too difficult to use by the customers. They pay the price for such an approach but it is factored in their overall costs of business. However, with the advent of AI, this price may be too high for commercial entities to bear. Another issue is the reliability of software from different vendors in providing adequate levels of security in light of the fact that the vendors have more control over the software than the users.
Prof. Zybertowicz noted that at the beginning of the war in Ukraine, "algorithms developed in Silicon Valley" successfully prevented the impact of the online disinformation spread by Russian trolls. In time, however, it seems that the Russian trolls overcame some of the defenses, making their disinformation campaign more successful.
Marcin Moczyróg said that Uber has a number of overlaying strategies that help boost the efficiency of cybersecurity software in such areas as personal identity to phase out cyber robots. It is also important that companies share information with other firms about suspicious events in the cyberspace they spot. Dominika Stępińska-Duch talked about business security that does not relate to cyber threats but a stable regulatory environment and legislative predictability. She said that in recent years, the regulator in Poland has taken a number of surprising legislative steps which created legal obstacles for TVN to renew the broadcasting license for a number of its television channels.
Cezary Sowiński referred to the same problem by saying that when working on new laws and regulations it seems that the government is reluctant to hold proper consultations with the stakeholders, including business, which does not add any value to business safety in Poland. He also noted that in many cases, legislators try to introduce regulations that impact one sphere of business by writing them in acts designed for other business spheres to have the new pieces of legislation processed faster in Parliament. This is a problem of overregulation. In 2021, Polish lawmakers produced nearly 21,000 pages of new legislation, a 45 percent increase as compared to 2020. What is equally threatening to business, among the proposed new legislation, there are regulations that go astray to the principles of the level playing field which is a must-have for the free market economy.
View the gallery HERE