28 czerwca 2021
Category:

Community News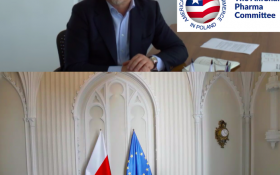 Yesterday, the AmCham Pharma Committee met with the Minister of Health, Mr. Adam Niedzielski, the Undersecretary of State, Mr. Maciej Miłkowski, and the Director of the Drug Policy and Pharmacy Department, Mr. Łukasz Szmulski.
The meeting was moderated by the chairman of the Committee, Mr. Jacek Graliński. During the meeting, we discussed topics related to transparent dialogue, financing health care, reality and priorities after the COVID-19 pandemic, and the Medical Fund.
We would like to thank the Ministry for its openness and willingness to dialogue. We hope for further cooperation in the future.