13 lipca 2021
Category:

Community News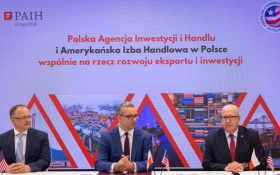 On Tuesday, July 13, Tony Housh, Chairman of the Board at the American Chamber of Commerce in Poland (AmCham) and Krzysztof Drynda, Chairman of the Management Board with Grzegorz Słomkowski, Member of the Management Board from the Polish Investment and Trade Agency (PAIH), and signed a cooperation agreement regarding the assistance of companies interested in the U.S. market and Polish market by working together on assisting companies who want to expand their exports or investments on each other's markets.
AmCham Poland's American Investor Desk has supported Polish companies interested in expanding to the U.S. market for free since 2019. The program has contributed and helped these companies as an informational contact point to acquire the necessary information about the U.S. market or gain various assistance. Since 2019 the program has completed over 20 events. From January to July 2021, we have attracted over 500 people to register for our events, covering various topics such as exports, investments, and professional services available to companies through the American Investor Desk channels.
Both Chairmen have agreed that the cooperation agreement will reinforce our work in assisting or directing companies to the right experts to ensure they are thriving on our markets when taking a leap into the vast American market for Polish companies or new opportunities in Poland when looking at Central Europe for American companies.
The PAIH spokesmen have said that their organization has in their pipeline 30 American projects, which have a value of over 1 billion euros. The spokesmen have mentioned that keeping Poland attractive to American investors is of high importance to the organization but not only. The cooperation agreement signed involving the American Investor Desk will undoubtedly align with our future planned events. The cooperation will create a more substantial promotion of Polish exporters and investors interested in the vast U.S. market by creating a more comfortable road for these investors to enter and succeed in the United States.
Afterward, AmCham Poland's Chairman, Tony Housh said that we have indeed worked together for many years, although it can always be more solid and in-depth where we won't only be looking at investments from the USA to Poland but that we also hope and look forward to assisting Polish companies considering their expansion to the United States. During the press conference, Tony said, "We are glad to have a partner whom we can rely on when working on common projects for American investments in Poland as well as giving a hand to Polish companies looking at the U.S. market."
Finally, all parties have agreed that both PAIH and the American Investor Desk work on joint projects to benefit Polish entrepreneurs looking to expand to a vast and complex market such as the United States. Since the inception of the American Investor Desk, we have done events both physically pre-pandemic and virtually during the pandemic, which have benefited Polish entrepreneurs. We are looking forward to expanding such workshops and events with the close cooperation of PAIH in the upcoming future.