2 czerwca 2022
Categories: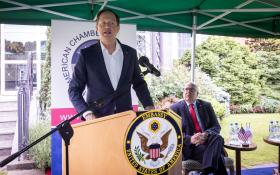 The June Monthly meeting was held at the U.S. Ambassador's Residence on Thursday, June 2nd. This was the first opportunity for AmCham membership to meet with Ambassador Brzezinski – over 150 AmCham member companies were represented at the meeting and enjoyed the garden reception.
The Ambassador gave a speech on the role of U.S. companies in shaping the economy, retaining growth, and creating workplaces. At the same time, he thanked AmCham Poland for supporting both business and the Embassy efforts in building a multi-dimension, investor-friendly environment.
He also commented current international and in-country situation, touching on the most up-to-date topics, including military and energy security, support for refugees and inflation.
At the end of the meeting, AmCham Chairman Tony Housh honored Mr. Brzezinski with the title of the Honorary Chairman of the American Chamber of Commerce in Poland.
View meeting gallery HERE