27 czerwca 2021
Category:

Community News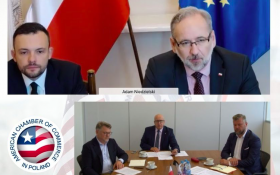 AmCham's June Monthly Meeting was attended by Mr. Adam Niedzielski, Minister of Health, and Mr. Radosław Sierpiński, President of the Medical Research Agency. AmCham was represented by our Chairman of the Board of Directors, Mr. Tony Housh, Chairman of the AmCham Pharmaceutical Committee, Mr. Jacek Graliński, and a representative of the group for Innovative Medical Devices, Mr. Dariusz Adamczewski.
During the meeting, we discussed various topics with the Minister, starting from issues related to the pandemic status in Poland and the government's predictions regarding the situation in the country. The Minister emphasized that there is still a risk of another wave of COVID-19 cases, citing new mutations of the virus as the primary risk source, and to a much lesser extent – increasing mobility. However, we are currently observing the inhibition of the virus development in Poland with the vaccination levels and the acquired immunity from the shots taken and individuals, which have gone through the disease previously.
Nevertheless, the fight against the coronavirus disease will slowly shift away from priority status and be recategorized as a "normal disease." The priority will be to restore public health in the country, i.e., the deficit resulting from withdrawing from prophylaxis, reducing physical activity, abandoning examination, or limited access to medical services.
The Minister announced the need to restore units dealing exclusively with COVID-19 to regular operations and the introduction of the 45+ program, for people over this age would be able to check their health stability. The Ministry is also preparing for reforms, e.g., paying for the result – transferring money for analyzed and effective therapies, as well as reversing the benefit pyramid, including introducing elements of corporate governance, creating an agency that will be an investor and restructuring agent, and responsible for personnel preparation.
Representatives of the AmCham Pharmaceutical Committee and the Group for Innovative Medical Devices also took the floor, pointing to various aspects and needs of the health care system in Poland. The issues raised include the need to increase healthcare financing, the need for consultation and dialogue in the acts being processed, extending public-private partnership, and extending access to modern and innovative therapies/equipment.
In the context of innovation, the Minister announced the establishment of the Innovation Department at the Ministry, and Mr. Radosław Sierpiński announced the establishment of the Warsaw Health Innovation Hub. However, when it comes to increasing healthcare financing, the Ministry hopes to reach 7% of GDP as early as 2023.
At the end of the meeting, the Minister proposed the next two working meetings among the groups mentioned above (i.e., Pharma Committee, Innovative Medical Devices Group) to strengthen the dialogue and partnership between the Ministry and AmCham to listen to particular demands and needs of the groups. The first meeting with the Pharmaceutical Committee is scheduled for Monday, June 28.