24 listopada 2021
Category:

Community News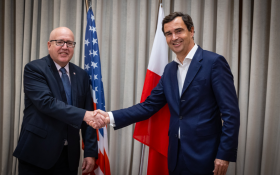 On Thursday, November 18, 2021, at the Raffles Europejski Hotel, AmCham hosted an exclusive AmCham Chairman's Table dinner with Mr. Christian Ulbrich, Global CEO and President of JLL.
The meeting, led by AmCham Chairman Tony Housh (Northrop Grumman), gathered a great representation of AmCham Board and Member Companies, including Radek Kaskiewicz (3M), Mariusz Mielczarek (Amazon), Jacek Graliński (Amgen), Weronika Guerquin (Baker McKenzie), Michał Mieciński (CMS), Tomasz Konik (Deloitte), Agnieszka Jankowska (GE/Amcham Board), Dariusz Kucharski (HSBC), Jolanta Jaworska (IBM/AmCham Board), Michał Chodecki (Panattoni), Małgorzata Wadzińska (Procter & Gamble) and Michał Pieprzny (SAS Institute). U.S. Embassy was represented by Heather Rogers.
Additionally, press representatives: Malgorzata Grzegorczyk (Puls Biznesu) and Drew Hinshaw (Wall Street Journal), joined the meeting.
The main axis of the discussion were trends and changes the real estate market is facing nowadays. Mr. Ulbrich provided research and experience-based vision of a New Office that is becoming not only a place to work, but also a place of integration and relationship building. COVID restrictions and lockdowns changed the perception of the office space and sped up this change. As most companies started encouraging their employees to come back to offices, they need to realize new needs and expectations, especially of the young ones.
The other widely discussed topic was the transformation of the real estate market towards more sustainable and energy-saving buildings. That will become a driver of trends in years to come in both newly built offices and renovated ones. Meeting ESG objectives is crucial for real estate, as that sector is understood to be responsible for c. 40% of CO2 emission in general.