12 stycznia 2022
Categories: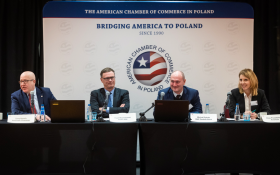 The January Monthly Meeting was held on January 12, 2022. The meeting was about the economic outlook for 2022 covered by Mr. Michał Dybuła, Chief Economist at BNP Paribas Bank Polska; Ms. Cristina Savescu, Senior Economist for Poland and EU countries at the World Bank; Ms. Eliza Przeździecka, AmCham Chief Economist and Mr. Paweł Wojciechowski Chief Economic Advisor of POLSKA 2050. The discussion was moderated by AmCham Chairman Tony Housh (Northrop Grumman).
The opening introduction by Tony Housh has raised many interesting concerns with regards to the key factors that would impact the economy in Poland, Central and Eastern Europe, and the global market in 2022.
The meeting opened with Eliza Przeździecka's summary of today's macroeconomic situation. It was said that Polish economy appears to be quite resilient to the current economic crisis' with 5.5% GDP growth in 2021, the highest CEE industrial manufacturing growth of 10%, and retail sales growth of 12%. In 2021, for the first time ever, there have been more new entrants to the market in IT sector than in manufacturing. Ms. Przeździecka underlined that Poland seems to be attractive for foreign investors. It is confirmed by a 30% growth in the number of entities with foreign capital registered in Poland in 2021 (vs. 2020). It is also worth mentioning that U.S. investors created the most considerable number of jobs among all foreign investors in 2021 within the projects assisted by PAIH. At the same time, high and growing inflation of prices and wages may lead to a risky inflation spiral in the near future.
Cristina Savescu of the World Bank gave an outlook on the global economy with an insight into the CEE region. While advanced economies have already reached pre-pandemic levels, they still have to catch up with the pre-pandemic trends. In the emerging economies, the recovery is negatively affected by the low vaccination rates and pandemic outbreaks. The growth in the EURO zone is expected to accelerate in 2022. The World Bank observed a strong inflation trend in the second half of 2021 for commodities and energy, driven by a strong recovery of the domestic demand, disrupted supply chains, and weather anomalies. In Europe, the role of growing gas prices cannot be underestimated.
Increased volatility, especially on the emerging markets, together with stabilization of commodity prices (on a high level), is expected in 2022. Global trade is likely to be slower than last year.
Answering the question on the evolving cost of money, Michał Dybuła from BNP Paribas stated that one must understand that we are today entering the normalization cycle. He noticed that policymakers are forced to act quicker than in other developed countries. The reasons for that are higher inflation pressure, higher pre-pandemic growth rates, and thus an extremally tight labor market. The latter leads to wage inflation, which may be difficult to control and cause economic costs for society and business. According to Mr. Dybuła, interest rates will continue to grow to reach the 4% level.
Asked about the importance of the EU funding role in the recovery plans, Mr. Paweł Wojciechowski of Polska 2050 confirmed the crucial role of EU support. At the same time, he noticed that Poland's reputation in front of international institutions and investors might even be more critical. Talking about inflation, he mentioned a couple of factors, including supply chain issues, demand, fiscal, and currency policy, stating that 8.6% inflation is too high.
Both reputation and inflation, together with Poland – EU conflicts, are changing the investment climate in Poland. All the efforts should now be taken to keep the positive picture of Poland as a place to invest, which guarantees mid- and long-term growth.
Eliza Przeździecka added that based on preliminary data and recent PAIH publications, U.S. companies in Poland are leading in investment and job creation. Reinvestments, changing the scope (e.g. service centers opened by existing manufacturing entities), are significant and confirm lasting interests in location of business in Poland. On the other side, a growing number of job vacancies in the market (even 70% y/y in December 2021, according to Statistics Poland) will be a challenge for companies in 2022.
Ms. Savescu underlined the need to assess the Polish economy's 'overheating' risk. Indicators such as a quick recovery of results (Q2'2021), expected trends, and high inflation together with political uncertainty and geopolitical risk cannot be ignored, both short- and long-term.
Mr. Dybuła pointed out value chain and logistics as a top concern for managers in the coming year. Identifying potential bottlenecks or risk of extraordinary price changes in the whole value chain becomes more important than ever before to keep each company's ecosystem (so also customers) sustainable and predictable.
What will drive thinking about the economy in 2022? Answering that question, Mr. Wojciechowski listed: inflation, (Polish) conflicts with the EU, labor market tension with its challenges (social policy, society aging, budget zone salaries), and changes (migration, re-/up-skilling). Among the external factors, he mentioned the cost of money due to monetary policy and the impact on businesses.
Ms. Savescu added that there is a deficit of private investment in Poland compared to other countries in the region. She repeated that no matter the positive trend in FDI, all efforts – including keeping costs of capital low – must be made to keep attracting new investment, both foreign and domestic.
Highly skilled STEM specialist is still available in Poland – that, according to Ms. Przeździecka, is one of the competitive advantages of Poland. Nevertheless, employers must face demand for more flexible models of work expected by employees.
View meeting gallery HERE