11 stycznia 2023
Category:

Community News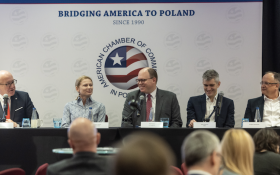 The 2023 economic outlook for Poland and the CEE region was on the agenda of the AmCham Monthly Meeting in January, held at the Warsaw Marriott Hotel on Jan 11. The panelists were Beata Javorcik, Chief Economist, at the European Bank for Reconstruction and Development (who joined the panel online); Cristina Savescu, Senior Economist from the World Bank; James Pomeroy, Global Economist at HSBC; Grzegorz Słomkowski, former Vice President of the Polish Investment and Trade Agency; and Ryan Bowles, Economic Counselor at US Embassy in Warsaw. The discussion was moderated by AmCham Chairman Tony Housh.
All panelists agreed that there is a bumpy road ahead of the global economy in 2023, mainly due to the energy crisis, and historically high and prolonged inflation, but also disruptions of global supply chains, or geopolitical shocks that are not going away soon as well as weakening of labor markets and a looming housing crisis. According to Javorcik, the energy crisis will deepen as China will compete for energy imports with Europe, including crude oil and liquid natural gas. She said that energy prices are not going to decrease substantially until 2025/26. The war in Ukraine has triggered changes in global supply chains and it is now clear that it is not going to end any time soon, Javorcik added. With the rise of energy prices, the global economy is bound to sharply decline across 90 percent of advanced economies globally, and approximately 75 percent of developing and emerging markets, noted Savescu citing World Bank numbers. "It is a very broad base de-acceleration," she said. HSBC's Pomeroy agreed by saying that in light of HSBC data, there is much more optimism about growth in Asia than in Europe in 2023. Global downside economic risks are labor markets and housing. While companies are reluctant to hire, workers tend to stick to their present employers and have tied incomes. With this, consumers scale down their spending. It affects many markets—most notably housing markets—which are additionally impacted by rising inflation which accelerates mortgage rates. "Most people in the world pay more for where they live and it is going to change for worse within the next 12 months," Pomeroy said.
POLAND'S PROSPECTS
Despite Poland's excellent long-term economic track record, 2023 is going to be difficult for the country's economy "just because it is going to be difficult for other economies", said James Pomeroy. In addition, Savescu, World Bank's Economist said that the inflation of consumer prices in Poland is expected to peak in Q1. What is more, energy price hikes have not yet been passed on to households in Poland, which keeps a steep inflation growth at bay, noted Javorcik. When they are, it may have paramount consequences for the economy. In terms of foreign direct investment inflows, Poland is expected to continue to attract big investments because the country has a good strategic location in Europe, said Grzegorz Słomkowski. He added that large investors will continue to invest in Poland in 2023 as they perceive the country as a safe and stable place. This view was reinforced by Ryan Bowles, who said that Poland is atop the list for US companies looking at investment locations in Europe. It is so because of the demographics and the fact that American enterprises in Poland attract workers from Poland and other EU countries.
View meeting galley HERE