31 sierpnia 2023
Category:

Community News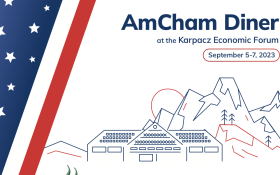 The American Chamber of Commerce in Poland will be present again at the Economic Forum in Karpacz on September 5-7, with our AmCham Diner – the best meeting place in Karpacz!
We have three panels as part of the Forum Program, where we will discuss the most important issues for U.S. – Poland relations and foreign investors in Poland.
The impact of U.S. investments on the Polish economy – September 5, 3:35 – 4:35 p.m.
The panel is dedicated to the role of American investments in Poland and their impact on the Polish economy. We will discuss the impact of American companies on the Polish GDP, the labor market, the environment, and the development of a wide supply chain. Additionally, the panel will address the business sectors in which American businesses operate, which will experience the most dynamic growth. We will also present the needs of American companies, which are crucial for further investment development in Poland.
Poland – U.S.: Partnership for security and development – September 6, 12:35 p.m. – 1:35 p.m.
During the panel, AmCham will present the latest data on American investments in Poland, the scale of these investments, as well as the resulting job opportunities and future directions for Polish-American relations. We will pay particular attention to ensuring Poland's security and leveraging the expertise of American companies for stable growth. We will also discuss business and political security as factors that contribute to the country's attractiveness to foreign investors.
The Future World – How the new technologies are changing the world? – September 7, 12:35 p.m. – 1:35 p.m.
During the panel, we will discuss how technological progress is changing the face of the world, particularly in the context of the current geopolitical situation and the war in Ukraine. We will focus on the possibilities offered by the development of artificial intelligence, widespread digitization, and the growth of cloud solutions. We will also explore the utilization of technologies from American companies, considering their status as technological leaders in these areas. Additionally, we will discuss the challenges and threats associated with new technologies and how to meet them effectively, ensuring that technological development serves society, promotes business growth, and enhances global security.
We will have the TVN24 and TVN24 BiS live studio inside with journalists conducting interviews with member company CEOs and government officials.
We would like to thank our Partners!:
Żabka Group, 3M Poland, Amazon, BAT, Citi Handlowy, Gemini Polska, Google, Honeywell, McDonald's, Meta, MSL, AmCham Pharma Committee, Uber, and sponsors in kind: Aphotic Wine, Barefoot Wine, Coca-Cola, Perła Beer, Pepsico and Stock!
Media Partners: TVN24, TVN24BiS, TVN/Warner Bros. Discovery
Together with Żabka and our Partners, we invite you for a warm cup of coffee and great conversation in the AmCham Diner. Attached is the AmCham Diner program. Please visit the Diner and attend our panels and discussions on important business issues.