12 czerwca 2022
Category:

Community News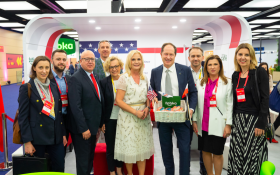 We are happy to report that the American Chamber of Commerce in Poland was successfully present at two important economic events, the European Economic Congress in Katowice and, for the first time, Impact'22 in Poznań!
We had the pleasure to host our member companies, government representatives, public administration officials as well as many other guests. We discussed the most critical issues for American investors in Poland and the global situation in these difficult times.
Our intensive program at the EEC Katowice included two breakfast meetings, with HSBC featuring a discussion titled "The rise of sustainable financing – opportunities and challenges for Poland." The panel was moderated by AmCham Chairman Tony Housh and Dariusz Kucharski, CEO HSBC, and with JLL, a cross-sectoral discussion titled: "Business Update – a hard look at the facts, events, and perspectives after shifts and shocks of the 1Q'22", chaired by Mateusz A. Bonca, CEO JLL Poland and Dominika Fox-Matulewicz, AmCham Executive Director. We also hosted a panel discussion on "U.S.-Poland economic cooperation" moderated by Jan Niedziałek from TVN24 BiS. The panelists included AmCham Chairman Tony Housh; Marta Poslad, Google; Mariusz Mielczarek, Amazon; Sebastian Perczak, Citi Handlowy; Mateusz A. Bonca, JLL; Krzysztof Drynda, PAIH and Mateusz Piotrowski, Polish Institute of Foreign Relations.
At Impact'22 in Poznań, Tony Housh, AmCham Chairman, delivered a speech titled "The United States and Poland: a renewed strategic partnership." During which he reassured us that the United States and Poland's strategic relationship has never been stronger. For the first time, we had the pleasure to have hosted Ambassador Mark Brzezinski at AmCham Diner and discussed with our Partners U.S.-Poland relations and partnership from a business perspective, priorities, opportunities, and challenges.
The AmCham Diner not only provided a unique venue for networking and discussions but created an opportunity for open dialog between the private and public sectors, while emphasizing the role and impact of U.S. investments in Poland. Our AmCham Diner was visited by distinguished guests, including Adam Niedzielski, Minister of Health; Janusz Cieszyński, Secretary of State, Government Plenipotentiary of Cyber Security; Konrad Szymański, Minister for European Union Affairs; Marcin Przydacz, Undersecretary of State for Security the Americas, Asia, and Eastern Policy, Ministry of Foreign Affairs; Krzysztof Drynda, Chairman of PAIH; Tomasz Chróstny, Chairman of UOKIK; Former Prime Minister Jerzy Buzek; Former Ministers Jerzy Kwieciński, Tadeusz Kościński, and members of the parliament.
Again, we hosted the TVN24 / TVN24 BiS live studio on-site with journalist Jan Niedziałek conducting interviews with member company CEOs and government officials.
View all AmCham Diner European Economic Congress in Katowice and Impact'22 in Poznań videos here
View AmCham Diner at European Economic Congress in Katowice gallery
View AmCham Diner at Impact'22 in Poznań gallery
We would like to thank our partners for being true supporters of this project and for making this year's success possible: Żabka and Żabka Café, TVN24 TVN24BiS, 3M, Amazon, Citi Handlowy, Google, HSBC, JLL, Uber and sponsors in kind: Brown Forman, Coca-Cola, Pepsico, and Perła.
Thanking you for being part of the AmCham Diner project, we would also like to invite you to join us at the Economic Forum in Karpacz, September 6-8, 2022.