2 grudnia 2021
Categories: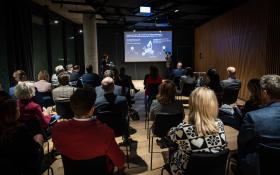 On December 1st, 2021 AmCham hosted a cocktail reception at a Nobu Hotel Warsaw focused on the presentation of Cloud 2030 McKinsey & Company Report on the cloud technology potential and its impact on Poland's economy and business.


The event's program included a presentation of the key insights from the McKinsey's latest report – Cloud 2030. Capturing Poland's potential for accelerated digital growth – delivered by its authors: Tomasz Marciniak, Managing Partner at McKinsey Poland; Borys Pastusiak, Local Partner and Ewa Granosik, Associate. AmCham Chairman, Tony Housh led the discussion focused on the potential benefits and challenges related to cloud adoption by Polish companies.


Widespread adoption of cloud technology across Polish companies and public institutions could generate an additional four percent of Polish GDP in 2030, equivalent to PLN 121 billion a year. This increase is likely to come from two areas: First, innovation and new digital businesses whose creation is enabled or accelerated by cloud architecture, and second, modernization and direct gains in regular business, including IT cost reduction and business automation. 


However, Poland's current level of cloud adoption is 14 times lower than that of the Northern European digital frontrunners and 1.5 times less than the average for Central and Eastern Europe. The biggest barriers to cloud adoption in Poland are lack of awareness about the technology and its advantages, uncertainty and concerns around data security, lack of required skills and IT staff, and worries about the financial burden arising from a transition to cloud. Overcoming these real or perceived barriers will require action by policymakers, businesses and regular individuals. 


See the full version of the report HERE
View meeting gallery HERE