27 lipca 2023
Categories: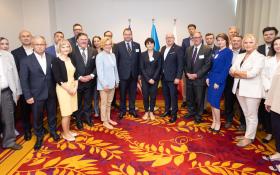 Today, we proudly hosted an exclusive AmCham Board and Advisory Council Meeting with Andy Hunder, President of the American Chamber of Commerce in Ukraine, and Olena Tsybukh, Counselor at the Embassy of Ukraine in Warsaw, Poland.
Tony Housh, AmCham Chairman, commenced the meeting and encouraged a favorable atmosphere for the exchange of ideas and decisive actions. He posed the question "How can we make things happen" for Ukraine and sought valuable insights into key issues confronting the Ukrainian business landscape and how our companies can contribute to their improvement.
Andy Hunder, President of AmCham Ukraine, expressed heartfelt gratitude to AmCham Poland for phenomenal support, both to Ukraine as a whole and to the employees of member companies operating within its borders. "Together we are pushing to win this war," he declared. Notably, 84% of their members remained operational, and 42% believe in the growth of the Ukrainian economy in 2023. What is more, AmCham Ukraine proudly welcomed 65 new member companies. This is not surprising as AmCham Ukraine is the largest AmCham in Europe, with a dedicated team of 40 full-time employees.
Despite the challenges posed by the ongoing war, AmCham Ukraine continues to deliver support to all their member companies and American investment within Ukraine. Their primary objectives encompass advocacy in government engagements, establishing platform to create connections with new clients and business partners, and spreading crucial information about the situation in Ukraine.
Andy Hunder also emphasized that conducting business in Ukraine currently is difficult, yet it's vital. He stated that "It's risky to invest in Ukraine, but it's riskier not to invest now." He also underlined the significance of security, rule of law, Ukraine's membership in the EU, transparency, and an attractive tax regime, all of which would ensure Ukraine's appeal to foreign investors.
Olena Tsybukh, Counselor at the Embassy of Ukraine in Warsaw, Poland highlighted that the impact of war will extend beyond the economy, affecting demographics as well. Therefore, it is crucial to act now. The most effective way to support Ukraine is through investment, both financially and by offering human capital, which is more critical than ever. She recognized 5 key sectors that foreign investors will find attractive, including energy, defense, agriculture, infrastructure, and IT. She also thanked Poland for its immense contribution to Ukraine's well-being.
We believe that this meeting offered an exceptional opportunity to gain invaluable insight into ways we can contribute to Ukraine's rebuilding efforts and further secure its thriving business environment.
Thank you to all who participated in the discussion and provided constructive comments. We would like to especially thank Jolanta Jaworska, IBM, Elżbieta Czetwertyńska, Citi, and James Lindley, U.S. Embassy, for their invaluable insights that significantly contributed to the discourse on Ukraine's well-being.
View the gallery HERE
​​​​​​​