8 grudnia 2021
Categories: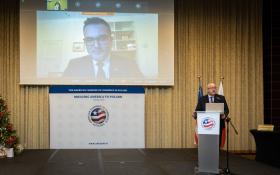 On Wednesday, December 9, 2021 we hosted AmCham member companies at the 2021 Annual General Meeting & Christmas Reception at the InterContinental Warsaw.
B. Bix Aliu, Deputy Chief of Mission, U.S. Embassy Warsaw gave the opening remarks, summarizing the passing year, and looking forward to even stronger future cooperation between AmCham, U.S. Companies and the Embassy.
Afterward, Dominika Fox-Matulewicz, AmCham Executive Director, opened the Annual General Meeting, followed by our Chairman Tony Housh, who presented the 2021 AmCham Annual Report with a couple of words from our auditor Mateusz Budner (PwC).
The 2021 AmCham Annual Report is available HERE
The Full picture gallery is available HERE