7 grudnia 2020
Category:

Community News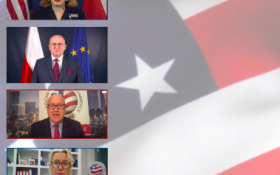 On Monday, December 7th 2020 over 100 members attended our AmCham Annual General Meeting which, due to the Covid-19 pandemic was held in an online format.
The meeting featured video addresses by the U.S. Ambassador to Poland, Ms. Georgette Mosbacher, and the Polish Minister of Foreign Affairs, Mr. Zbigniew Rau. The meeting was attended by Mr. Bix B. Aliu, Deputy Chief of Mission at the U.S. Embassy, and Deputy Minister of Foreign Affairs Mr. Paweł Jabłoński who both delivered their comments.
The business part of the meeting focused on the 2020 Chairman's Report (view the 2020 Annual Report here), which was approved by the membership, as was the 2019 Audit report.
Finally, we want to congratulate the new Board of Directors for the 2021-2022 term at the American Chamber of Commerce in Poland:
Robert Bednarski, Facebook
Bartosz Ciołkowski, Mastercard
Robert Grader, Warsaw Marriott Hotel
Tony Housh, Northrop Grumman
Agnieszka Jankowska, GE Poland
Jolanta Jaworska, IBM
John Lynch, Lynka
Marcin Petrykowski, S&P Global Ratings
Fabio Pommella, Whirlpool
Marta Poślad , Google
Sławomir S. Sikora, Citi Handlowy
Joseph Wancer, BNP Paribas Bank Polska
This year the American Chamber of Commerce in Poland marked its 30 Year Anniversary. View the video here