21 kwietnia 2020
Category:

Business & Economics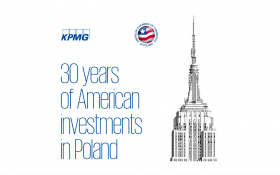 We are pleased to bring you this in-depth research into American investment in Poland and highlight the important role US capital, technology and know-how continue to play in the economic success to date and resiliency of the country in the face of the Covid-19 pandemic. The analysis, finalized in April, reflects an international economy before the impact of the corona virus.
Economic impact, supply chain and workforce disruption will affect the market, companies, plans and our employees. Investment, like much of business, requires understanding, information and the ability to draw conclusions about what was, is and will be successful in the future. We believe that this report will underscore the impact of American investment and what the future holds for our companies.
At the beginning of 2020, active assets in Poland held by American investors is over $54 billion – or nearly PLN 205 billion. This continues the strong investment and growth history of our companies, which AmCham estimates have committed approximately $63 billion over the last three decades, sustaining over one quarter million jobs today directly and many more through value and supply chains.
Poland is and will remain an attractive market for our investment. As a leading European Union economy with traditionally high growth rates, US capital contributes to the competitiveness of Poland on the EU and global stage.
Due to the economic changes, before making a decision based on the data presented in this report, we recommend consulting the timeliness of data with Eliza Przeździecka, Head of Economic Research at AmCham, corresponding author ([email protected]).