23 czerwca 2022
Category:

Community News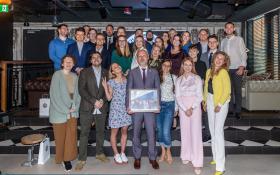 On the first day of summer – June 21, 2022 – the 7th Edition of AmCham's 30 Under 30 had their Graduation Ceremony in Elektorwnia Powiśle. The 10-month-long journey has come to its end. Another group of (future) business leaders is ready to conquer the World – now equipped with ideas and inspirations from all our speakers.
We would like to thank our speakers who helped us create the program Tony Housh, Mark Boris Andrijanič, Lisa Glassner, Marcin Petrykowski, Bartosz Kurek, Andrzej Lassak, Marcin Węc, Biba Konieczna-Sano,Merry Lynch Pavlak. Special thanks to speakers who joined us yesterday: John Lynch, John Held, Łukasz Kowalski and Katarzyna Rodziewicz, Krzysztof Kłapa with Professor Adam Jelonek with whom we announced the winning capstone project. The idea developed by the winning team will be brought to life by the next edition of 30 Under 30 and will help Fundacja Ronalda McDonalda fundraise.
Special thanks to Cindy Biggs, U.S. Embassy, who gave a fantastic speech on the stage and Jan Berdychowski for inviting 30 Under 30 alumni to Karpacz and your offer to create a dedicated space and activities for our young leaders during the upcoming Forum Ekonomiczne. Thank you, Elektrownia Powiśle for hosting us.
The Graduation Ceremony was also an occasion to meet 6th Edition participants who, due to COVID, never had their own. Thank you for joining after a long break.
View full Graduation Ceremony gallery: HERE
View 7th Edition summary: HERE